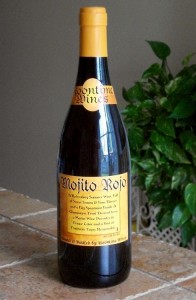 As a home winemaker, you put a lot of yourself into each wine that you make. So when it's time to choose a gift for someone special, a bottle of homemade wine – with personalized wine labels – makes a great gift to give to a family member or friend.
How much effort do you put into the presentation of your gift? Do you take time to create a special label for each bottle of wine that you give away, or do you simply use a sticker to mark the varietal and year?

You know that you shouldn't judge a book by its cover, or a wine by its bottle. But you can't help but notice when a bottle of wine has a generic label. Though it's the thought that counts, poor presentation of your wine can make your gift seem less spectacular than it really is.
Because you know that the wine you make is every bit as good as anything you buy at your local wine shop. But the recipient may not be aware of that. If your wine isn't nicely labeled, they may be suspicious about the contents. A bottle with a plain label, or worse, none at all, may be placed away in a dark cabinet and forgotten instead of enjoyed.
It doesn't have to be this way. You can ensure that every bottle of wine you give away is treasured and enjoyed. When you give a bottle of your homemade wine as a gift, label it with a professionally printed label.
Personalized wine labels will make your wine look professional. Your wine will also look more appealing to the recipient. They will appreciate the skill and artistry that went into both the wine, and the wine bottle label.
Remember, when it comes to giving a gift, presentation can mean as much as the gift itself. You know how much you appreciate a beautifully wrapped gift. Dress up your wine bottles with beautiful custom wine labels from Noontime Labels. Check out our label gallery today to see hundreds of options.