The next time you're having a bad day, just remember: it could be worse.You could have just lost some perfectly good wine bottles in a tragic accident.
Overall, I have a pretty sunny disposition. Most of the time I'm downright happy. Why wouldn't I be? Life is good!
But I have bad moods, too. Sometimes it just takes a little thing to trigger it. The computer that won't boot up, a stain on my favorite shirt, or a traffic jam when I'm running late can cause a perfectly good day to go bad.
Times like these, when things start going wrong, I find it helps to remember that things can always be worse. Like it was for these people:

World's Biggest Booze Breakages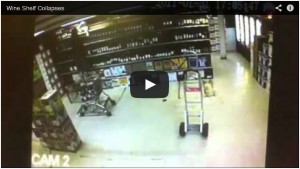 World's Biggest Booze Breakages
Click the link above to see 7 videos of the most spectacular wine and beer spills ever caught on camera.
The next time you are down in the dumps, try this: Take a look at a few of these short video clips, and be thankful that all of your good wine bottles didn't just fall off a shelf and break!
Click here for the latest custom wine label designs online at Noontime Labels.
Sign up for our emails and never miss a sale or promotion, click here!