This week we are spotlighting a label that has been extremely popular in the short time it's been in the gallery. The Custom Wine Label of the Week is Optimus Rex, shown here on a bottle of Noontime Labels homemade Old Vine Zinfandel.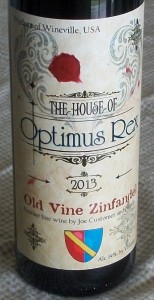 This big, bold label is patterned after classic French Merlot wine labels. It will easily stand up to your biggest red wines. It is a generous 4 inches wide by 6 inches tall, has permanent adhesive, and will make a huge statement on your Bordeaux style bottles.

If you love the label but need a more traditional size, no problem! You asked, and we answered. Now the popular Optimus Rex is also available in two additional sizes. Optimus Rex Chardonnay comes on a 3 inch wide by 5 inch tall label with permanent adhesive. And Optimus Rex Merlot is on our popular 3.3 inch wide by 4 inch tall label stock, complete with removable adhesive.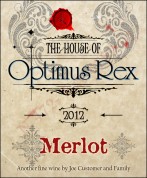 All three labels have been designed to give you a beautiful custom wine label. These labels may look like they are made of fine parchment, but they are actually printed on the same sturdy paper as the rest of our labels. All three are water resistant and won't run, smear, or smudge, even when chilled or damp with condensation. The colors will continue to be crisp and beautiful, long after you've finished your wine.
Make these labels your own by using our Advanced Editor feature to personalize the size, color and font of your text. Once you're done with your design, you'll have a unique, one-of-a-kind label for your carefully crafted homemade wine.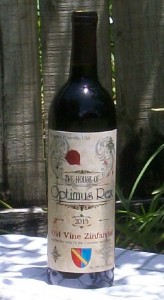 Go to our label gallery and check out Optimus Rex and hundreds of other label designs available online. It takes just minutes to order your custom labels any time of the day or night. Personalized wine labels from Noontime Labels make the outside of your bottle as artistic and expressive as the wine on the inside of the bottle.
Sign up for our emails and never miss a sale or update, click here now.