We'd like to send a big THANK YOU to everyone who entered our Name That Label contest!
We asked for your help, and you came through for us. We couldn't believe the number of responses we received. You did an incredible job coming up with hundreds of unique label names!
There were so many wonderful entries to choose from, it was hard to pick just one winner. But eventually, after a lot of consideration, we came up with the one that we thought best fit this custom wine label. And here it is: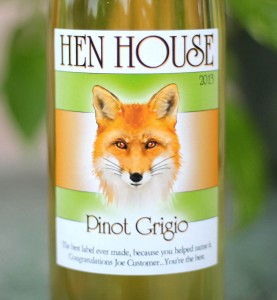 Congratulations to Jon for his winning entry, Hen House! We loved how Jon came up with a label name that took a twist and told the story from a different angle. Thanks for the submission, Jon, we hope you enjoy your free wine labels!
Congratulations also to Becky M., who was the other winner drawn at random from all the remaining entries. Enjoy your free set of labels, Becky!
Thanks again to everyone for your participation! It was your effort that made the Name That Label Contest a great success. We had a lot of fun, and hope you did, too! Watch for more giveaways coming up in the future.
Click here to see the new Hen House wine label featured in our personalized wine label gallery on the Noontime Labels website.
Sign up for our emails and never miss a sale or promotion! Click here now.