We live in south Florida. It's not exactly an area known for its local wine. We can pick all kinds of tropical fruits right out our front door, but vinifera grapes don't grow this far south.
We've realized that doesn't really matter, though. You can still get good local wine here.
We try to support local businesses when we can, and we love to go wine tasting. So recently we hit the road and set out on the Florida Wine Trail near St. Petersburg.
Okay, it's not exactly an organized trail… But as you can see from this Florida Grape Growers Association map, there are quite a few wineries in Florida. (Click here to see a larger image.)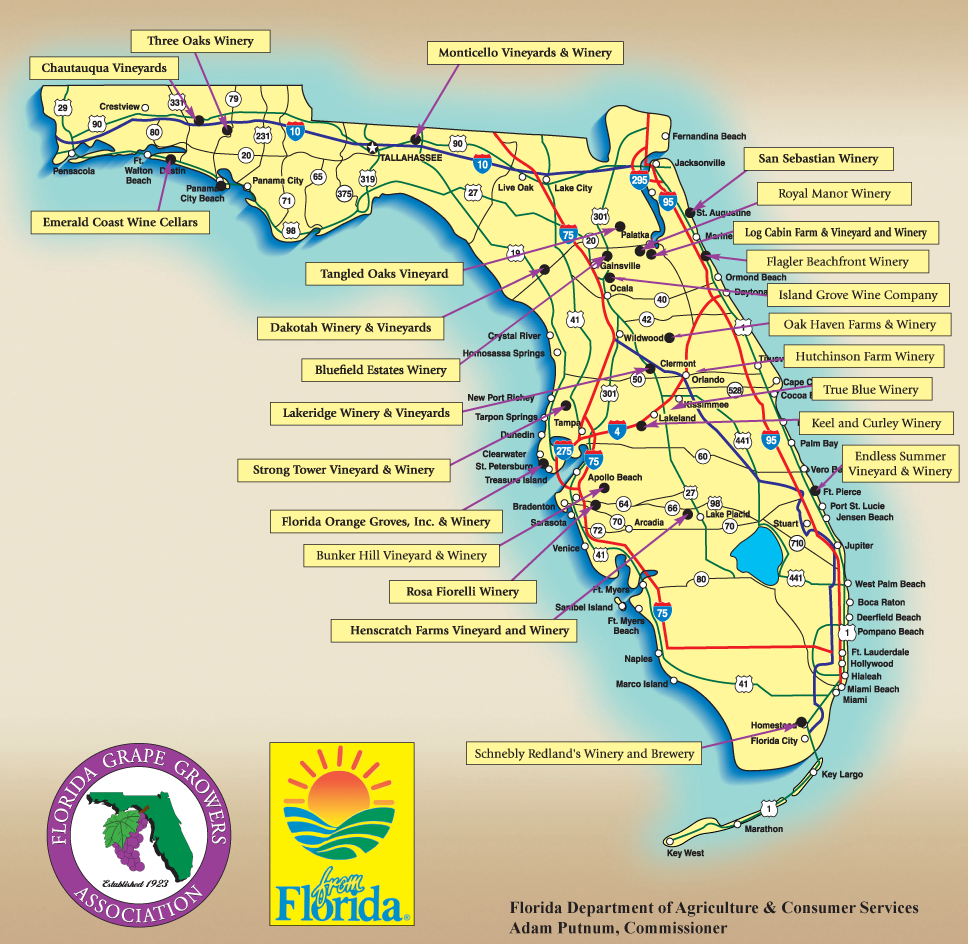 So, what kind of wine will you find here? Mostly fruit wines, wine made from the native Muscadine grapes, and blends of Muscadine and vinifera juice. You won't find spicy Zinfandels or peachy Rieslings anywhere. But strawberry, blueberry, or mango? You bet!
Florida Wineries Near St. Petersburg
On our recent wine tasting trip, we headed west and visited Henscratch Farms, Rosa Fiorelli Winery, Bunker Hill Vineyard, and Florida Orange Groves Winery.
Now, we've been wine tasting in several major regions in the US, including Monterrey CA, the Finger Lakes, NY, and northern Virginia. Plus, we make wine at home. We know a thing or two about wine and wine tasting.
We noticed a few interesting things on this trip. In most other places, wineries are cordial and even helpful to one other. They know what's going on in their area, and they respect their neighbors and competitors. They're also usually aware of the home winemaking community
Here in Florida, it's a little different. Each place we went, we mentioned we were home winemakers, and we were met with complete surprise ("you can do that?"). And when we mentioned we were visiting other wineries, we encountered everything from ignorance of the other operations (even though they're just a few miles down the road), to polite indifference, to a rather "unfriendly" attitude.
We're hoping that our local wineries will eventually embrace the cooperative nature of winemaking. The industry is still young in Florida, and as it grows, we hope it will become more of a community.
Worth the Trip!
In the meantime, though, Florida wines are worth a taste. Come and enjoy the exotic flavors of Strawberry, Blueberry, or Muscadine wine.
And remember to go out and visit your local wineries. If we have this many wineries in a place that's inhospitable to grapes and winemaking, just think what you'll have where you live.
What's your favorite winery in your area? Have you been on the Florida Wine Trail near St. Petersburg, or any other area in Florida? Share in the comments below!
Never miss a sale, promotion, or news about custom wine labels! Click the button below to join our email list: