Earlier this month we traveled to the Grapevine Midwest Viniculture Expo in Davenport, Iowa. Attending the conference and trade show to promote our custom and personalized wine labels was our primary reason for the trip. However, we also took a little time to do something we enjoy: wine tasting in Iowa.
Any time we travel, we try to allow time to visit local wineries. We like to learn more about regional wine industries, discover grape varietals that we've never tasted, and see what winemakers are creating from the grapes available to them.
We've had the good fortune to travel to several wine regions in the United States where they are growing fruit other than what you might find in France or California. Something we've discovered is that no matter where we go, we're able to find good local wines.
Our trip to Iowa wine country was no exception. The Iowa Wine Trail is filled with good quality, award-winning wines.
We planned an extra day after the Viniculture Expo just so we could stop at some wineries in the Dubuque area. As you might imagine, we tasted a lot of grapes that thrive in a cold climate. Some of them were familiar, having been to wineries in Finger Lakes, New York and Virginia. Other grapes were completely new to us.
I must say, we had a lovely time and ended up buying a few bottles that flew home with us in our suitcase. (Thank you, bubble wrap bottle bags!)
Wine Tasting in Iowa
Our first sip of Iowa wine was at the tasting room for Wide River Winery in Davenport. This is a fun place where the winemaker is a lawyer, and all the wine names follow a legal theme. While we were there we discovered Petite Pearl, a red grape with a delightful flavor. They also had some lovely fruit blends. We bought a bottle of Ms. D'Meanor White, a fruity, dry Vignoles.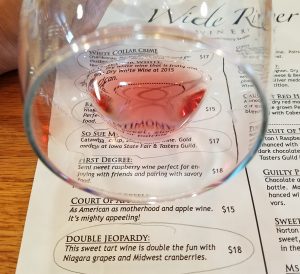 Tycoga Vineyard and Winery near DeWitt was another stop. Tycoga offers a delicious journey through local grapes like Edelweiss, Frontenac, and Marquette. Plus — our first ever taste of Rhubarb wine. Yes, if you go to Iowa, you must try the Rhubarb wine! They definitely had the largest selection of the wineries we visited, and we spent a couple of hours tasting our way through them..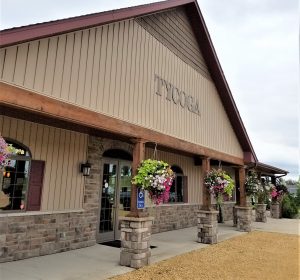 Tabor Home Winery, established in 1996, is located on the Tabor family's historic farmstead. They have beautiful views of their vineyard and the surrounding fields.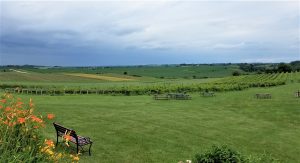 Our experience there included tasting St Croix, a rich red wine, a medium-bodied blend called Barn Dance Red, and a Catawba sparkling wine. And of course, we also enjoyed their beautiful labels.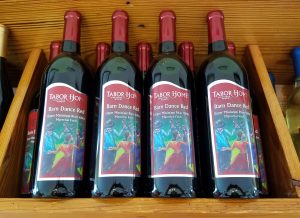 Park Farm Winery also had spectacular views and delicious wines. We brought home a bottle of Picket Fence, a semi-sweet Vidal, one of our favorite wines from the trip.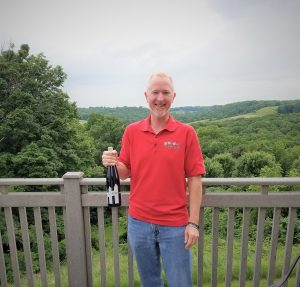 Pro Tip: Try This Sweet, Wine-Based Frozen Treat
In case you were wondering, summertime is a great time to visit Iowa wineries. Nearly every place we went had wine slushies on tap. Have you had a wine slushies? It's the perfect treat on a hot afternoon!
Something that we loved about the Iowa wine trail was that everyone was generous and supportive. No matter who we talked to, they enthusiastically recommended other wineries and their wines. That type of support has helped the industry go from zero to almost 100 wineries throughout the state.
The next time you're in Iowa, be sure to check out one of the many wineries, breweries or distilleries. You won't be disappointed. We weren't.
Did you know you can go wine tasting in Iowa? Be sure to visit the Iowa Wine Growers Association website at www.iowawinegrowers.org.
Never miss a sale, promotion, or news about custom wine labels! Click the button below to join our email list: