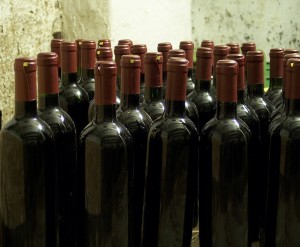 It's easy for me to recycle wine bottles. My wife (Mrs. Noontime) and I simply refill our bottles with more homemade wine. We always tend to be a little short on bottles somehow… maybe because we give away a lot of wine. Always with a custom label, of course.
We were bottling a few months ago, and ran short on empty wine bottles. We had to resort to asking friends to save their empties for us, and we even ended up (gasp!) buying bottles. Oh, the horror!

But if you do find yourself with extra wine bottles, there are options other than putting them in the recycle bin. I found this nifty website with 20 beautiful ways to recycle wine bottles around your home.
20 Ideas of How to Recycle Wine Bottles Wisely
Check out their great photos. You would only need a few tools to be able to safely cut the glass, and you could be on your way to having lovely homemade wine bottle art in your home.
Which ones are your favorites? Do you have any other creative or practical ways to recycle wine bottles? Let us know in the comments!
Of course, the best way to recycle wine bottles is to fill them with homemade wine, and with custom wine labels. Our removable adhesive makes it easy to peel labels off and reuse the bottles again and again.
P.S. Mrs. Noontime really wants a chandelier and the windchimes! Too bad all of our bottles are spoken for…