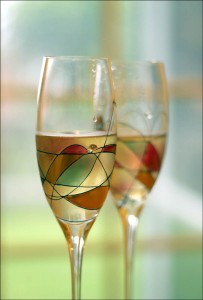 A few months ago we bottled our yearly batch of homemade mango wine, and this year we decided to get a little creative. We made a few bottles of sparkling wine, aka homemade mango champagne, since Mrs. Noontime loves a good champagne, or even a bad one. (Her words, not mine…)
We decided not to do the traditional method of disgorging and just threw yeast and sugar in the bottles (figuratively). We let the yeast do their thing, and will be careful of the sediment at the bottom of the bottle.

Over the weekend we popped open our first sparkler, and it was delicious!
Our homemade mango champagne was dry, wonderfully effervescent, and fruity. It has marvelous mango flavor that pops on the tongue, with the bubbles bringing that wonderful peachy mango aroma right to the nose. We'll definitely be making more sparkling wines in the future, as we work up the courage to follow the méthode champenoise and make a sweeter one.
Have you ever made a sparkling wine? What kind of wine was it, and how did it turn out? Tell us all about it in the comments.