Have you ever wondered if drinking wine when flying is worth it? After all, how good can airplane wine actually be?
Noontime Labels is once again proud to sponsor the annual WineMaker Magazine Conference, held this year in Monterey, CA. The conference starts May 17, and I have a lot to get ready in the next week and a half.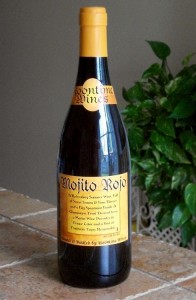 One of the fun things I get to do is to select some of my own homemade wines to share at the Wine Share and Tasting Party. And I've been wondering how my wines will hold up on the flight from Florida to California.

So it seemed fitting that I came across this article yesterday:
Grape Expectations: How Airlines Pick High-Flying Wines
This is an interesting article with insights from a consultant who has over 24 years of experience selecting wines for Cathay Pacific Airlines.
It turns out that there is a lot more than simple tasting that goes into picking out the perfect wines to serve on board an airplane. Drinking wine when flying is complicated!
Many wines become bottle shocked because of an airplane's vibrations. And if a wine has any flaws, they tend to be more noticeable while flying. That's because the dry cabin air of the plane makes tannins and bitter tones more pronounced, and can hide the delicate fruity notes that bring balance to a wine.
What can a weary traveler do to make sure they have a good experience drinking wine when flying?
Red wines are the most affected by the rigors of airline travel. White wines tend to hold up better. And you can never go wrong with champagne, whether you are flying or not, according to the consultant. (Mrs. Noontime agrees with this.)
Your best bet for a good wine on board the airplane will be in first class. For those of us that fly economy class, there won't be a great selection, if any, to choose from.
Don't try to second guess your personal taste. Choose a wine you would normally like to drink, rather than something you think will hold up better to flying. Let your own palate be the judge.
And while you're in the air, drink up. Sadly, any opened bottles get dumped at the end of a flight. Don't let good wine go to waste!
Have you ever had a great wine while flying? I generally stick to water to prevent dehydration. But I'm going to pay more attention to the wines available on my flight to California. After all, any wine that holds up well to air travel will also taste great at sea level.
And are you attending the WineMaker Magazine Conference in Monterey? If so, let me know in the comments, and make sure you stop by the Noontime Labels table. I'd love to say "Hi!"