. Now that summer is here in all its glory, we're all looking for ways to stay cool. For home winemakers and brewers, that means chilling our homemade wines and beers to enjoy with dinner and by the pool.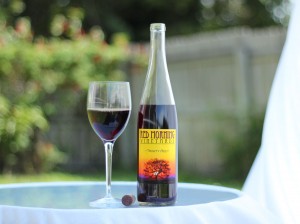 A cold homemade beverage shared at a barbecue or picnic tastes great in the heat, but condensation can ruin your label. If you printed your wine label at home, it could streak and run when damp, creating an unsightly mess.
Water Resistant Custom Wine Labels
But it doesn't have to be this way. You can avoid streaks and smears and always have beautiful bottles with water resistant custom wine labels. All personalized wine labels you order from Noontime Labels are water resistant. They won't smear or run going when you grab one from the refrigerator or cooler.

Our labels stand up to moisture because we use a special, wax-based ink, which protects the paper they are printed on. That means your labels won't run, smudge, or streak, no matter the humidity or condensation.
For those that need a label that can stand up to an extended soaking, we also have 100% water-proof labels, made of polypropylene and printed with water-proof ink. They are ideal for bottles that are going to sit in a cooler or ice bucket. The two-part style fits perfectly on beer, wine, or champagne bottles. You can soak them for days in water. They will remain as sharp, vibrant, and colorful as when you first applied them.
With our water resistant and water-proof labels, you know that your wine and beer bottles will always look good. You can take your carefully handcrafted wine as a gift to a dinner party with confidence. No matter how you serve it, your custom label will be just as beautiful as the day you put it on.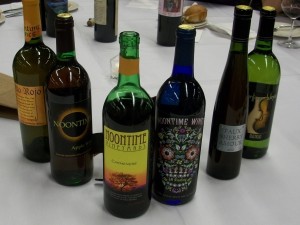 Visit our label gallery today to see our selection of hundreds of water resistant custom wine labels. These templates are available in beautiful designs, ready for your wines and beverages. Getting your labels is as simple as select your label, personalize the text, and order. You make the wine, we'll make the labels!