Introducing our Custom Wine Label of the Week, Monterey Merlot! Pictured here on a bottle of our homemade Pinot Noir.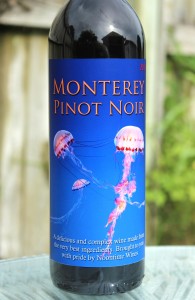 This custom wine label was inspired by a recent trip to the Monterey Aquarium in Monterey, CA. The artwork comes from one of many photos in the Aquarium's jellyfish exhibit. As I marveled at these beautiful, serene sea creatures and the amazing variety of species, I knew they would be featured on a wine label design somehow.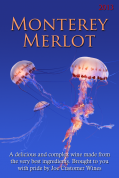 This label measures an impressive 4 inches wide by 6 inches tall, and will stand out on your boldest wines. With water-resistant ink and permanent adhesive, it will remain vibrant and beautiful whether you serve your wine at dinner, take it to a picnic, serve it chilled, or give it as a gift.
The Monterey Merlot custom wine label will make a statement on your bottle. Whether you love it for the ocean scene, wildlife photo, or the beautiful colors, it will be perfect on your favorite red or white wine.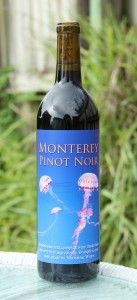 Note: Monterey Merlot is currently unavailable. However, you can choose from other personalized wine labels that are available to order online right now. Come check out our hundreds of designs available and customize your own labels at our label gallery. If you're interested in the Monterey Merlot custom wine label, please contact us.
Sign up for our emails and never miss a sale or promotion, click here now!