What's the best, most efficient and economical way for storing homemade wine? That's been a big question in the Noontime household lately.
If you're like us, you've found that home winemaking leads to having lots of wine to store. We recently stepped up our winemaking production so we could set aside some bottles to age. And we discovered our existing hodge-podge of homemade wine racks and boxes just couldn't hold it all.
We needed more wine storage! So Mrs. Noontime and I looked at a number of options.

We had some criteria. Our wine storage had to be:
Sturdy
Attractive (or at least not too ugly)
Reasonably priced
Able to hold a lot of bottles efficiently
At the same time, we also had some limitations. We live in Florida, so we don't have the option of an underground cellar, due to the high water table. We also don't have much space to work with in our house.
After much debate and shopping, here's what we ended up with:
HomCom Classic Rustic Wooden Wine Rack, at Amazon (affiliate link).
These racks hold 120 bottles each, and fit into the space we had.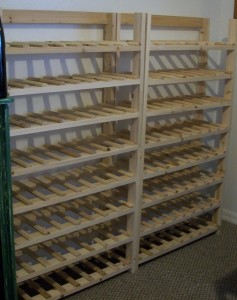 Here they are, fully loaded, along with our existing hodge-podge of wine racks.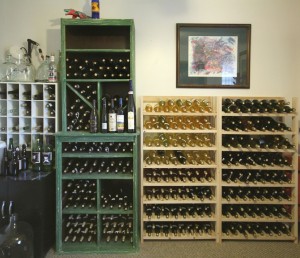 I'm very happy with how many bottles they hold and how easy they were to install. And they look gorgeous with all that wine!
If you're looking for more advanced storage options, check out some of these walk-in cellars:
Wine Storage is What You Make of It
I would LOVE to have a Eurotemp or Vinocave walk-in cellar! Right now, though, they are beyond my budget. Maybe someday.
In the meantime, here's another gadget I'm looking at. Since my wine isn't cellared, I have to remember to chill it in the fridge to get it to the proper temperature before drinking. I think my life would be a lot easier if I invested in a Winewell wine bottle chiller. Mrs. Noontime, however, doesn't think I need one. I can't understand why she feels that way…
How about you? How do you store your wine? Do you have a unique way of storing homemade wine?
Tell me about your wine storage system in the comments below. If you have any photos, please post a link to share.
Click here to join our email list for savings, promotions, and more!