Your bottle sizes for homemade wines affects the type of custom label you put on your wines.
You see, I spend a lot of time thinking about labels, and how custom labels will look on wine bottles of different sizes.
A while back, I made a cheat sheet for bottle sizes. This makes it easy for me to answer customer questions about their wine bottles and the appropriate label size.
It's been so helpful to me that I decided to make it look nice and share it with you. So here's a handy chart with bottle sizes for homemade wines you can reference when you're choosing labels.
This chart has standard bottle sizes, and how much flat space is available for the label on each one. *Please note, bottles may vary in actual size. This chart is a guideline of common sizes. Always measure your wine bottles to be sure.*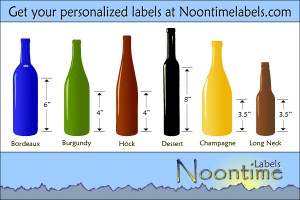 Continue reading →