Home winemaking is a long process, but now you're done with all the hard work of making your wine. Your lovingly crafted wine is in the bottle, waiting to be enjoyed. Before you share it with family and friends, you want to put a label on it. But with so many different options to choose from, how do you pick a wine label design?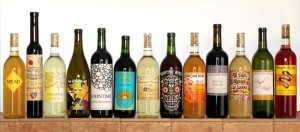 It can be tough to decide. There are hundreds of label designs available on our website, as well as templates to upload your own photos. With so many choices, it's hard to narrow it down to one label that will express your wine.

Here's how we pick a wine label design for our own wine bottles.
1. Look for a label that represents the name of the wine, the grapes, or fruit in the wine. For instance, I'll choose a tropical scene like Island Life or Boardwalk for my tropical fruit mango wine, while my Pinot Grigio gets a label like Tuscan Skies or Peach Sky Wine with a view of grape vines. And of course, I used Dragon Breath Yellow label for my Dragon Blood wine.
2. Choose a label that represents your hobbies, interests, or even your nickname. Here are some ideas: horses, boats, cats, music, outdoorsy, butterflies… Use the sort function and search box in our Label Gallery to help you find what you're looking for.
3. Match the color of the label to the wine. A deep, rich, dark label looks great on a bottle of red wine. A light, bright, airy label will complement a bottle of white wine. Or pick a design with your favorite colors, for a label that will make you happy every time you see it.
4. Match your wine's personality. A serious wine will look good with a serious label, while a fun wine can pull off something more whimsical. Choose a simple, classic label like Classic Parchment Pinot Gris for your Reserve Old Vine Zinfandel. Tutti Fruitti or Skeeter Pee gets a fun custom wine label with a little more pizzazz.
5. Finally, let your fingers do the walking. Just browse through our wine label gallery and see what's out there. You're bound to come across a design that tickles your fancy, and is perfect for your wine.
What are your favorite labels? Let us know in the comments below.

Join our email list and never miss a promotion, sale, or update again! Click here now.