Tragic news for the US wine industry: Due to the cold weather and bud damage in the vineyards, the Finger Lakes Wine Country in New York has been declared a disaster area.
Here's the full story: Finger Lakes wine country declared a disaster zone
Some wineries in the area are reporting up to 100% of their vines were damaged. It will be a while before they know how much damage the vines actually sustained, but they it's going to be severe. This will undoubtedly mean lower yields in Finger Lakes wineries this year.

I've been to the Finger Lakes and was lucky enough to enjoy many wines while I was there. Finger Lakes wines are hard to find here in southern Florida, but I'm definitely going to make an effort to pick up some. It may be a few years before I get to enjoy the wonderful wines of the region again.
In happier news, though, New York wineries won over 80 gold medals at the Finger Lakes International Wine Competition. This should come as no surprise to anyone who has sampled wines from the area. The New York wines I've had were great. Congratulations to everyone!
Full story: New York wines win 80+ gold medals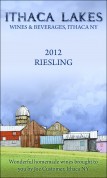 The Ithaca Lakes custom wine label was inspired by my trip to the Finger Lakes wine country in 2012. Check it out online, or take a look at hundreds of other wine and beer label designs, ready to personalize. In just minutes you can order your own one-of-a-kind labels for your homemade wine, beer, or mead.
Every wine has a story to tell. Let yours speak with a custom label from Noontime Labels!
Join our email list and never miss a sale, update, or promotion! Click here.