There are many different wine label sizes available to winemakers. When making DIY wine labels, you may think that designing your label first and then putting them on your bottles makes sense. But remember this: Size matters! Well, wine label size, that is.
Wine Bottle Parts
Wine bottles can have vastly different body sizes. The body is the flat part between the heel and the shoulder where you adhere the label. Unless you have a label shape that is specifically designed to work on a curved surface, the flat wall of the body is the only place your label should go.
Best Wine Label Sizes
What's the best wine label size for your bottle? The one that properly fits on the body of the bottle, while showing off your design. If your label is too big or is not the right shape, you'll have wrinkles and buckling and it will look awful.
A common mistake that we see here at Noontime Labels is that winemakers will design their label first, and then realize it doesn't fit on their bottle. Many times we've helped customers adjust their label design so it will fit a label that's appropriate for their bottle.
We've been there … trust us, it's easier to pick the correct size first, then design the label! You have to know what kind and what size bottles you're going to use before you design the label that will go on them.
To help you avoid this unfortunate occurrence, we've created a guide on common bottle styles, and the average size of the body for each one. Consult this before you design that personalized wine label, and you'll always end up with a professional-looking bottle.
Remember that there can be some size variation even within the same bottle style, because they may be made by different manufacturers. So this is a guideline to get you started. However, we recommend that you measure the wall of the actual bottles you'll be using. If you're using all of the same bottle from the same manufacturer, you can measure one bottle to determine the average size, and pick your label size accordingly.
And if you're using bottles from multiple sources, such as leftovers from other batches or you're recycling, you have a couple of options. You can measure the body (flat part) on largest and smallest bottles you have, and choose your label size accordingly. Or you can create multiple label designs for the multiple bottle sizes.
Wine Bottle Sizes  
Bordeaux – With a body about 6 inches, Bordeaux bottles give you a lot of space for your label and design. Many wine label sizes will work, up to 6 inches. The most popular size for this bottle is 3.3 inches wide by 4 inches tall, since the width usually doesn't wrap around and you can see the entire design without having to turn the bottle. Be sure to measure your bottles first before choosing a large label size like 4 inches by 6 inches.

Burgundy – Burgundy bottles usually measure about 4 inches in the body. One of our most popular size labels, 4 inches tall by 3.3 inches wide, fits perfectly on these bottles.

Champagne or Sparkling – with a body 3.5 inches tall, you can fit a 3.3 inch tall label on these bottles. Remember to consider the paper as well with a Champagne bottle. We have laminated wine labels and waterproof vinyl if you need to submerge your bottles in an ice bucket.

Dessert – these bottles can vary. Our example is 8 inches, but be sure to measure yours.

Hock – These also fit our most popular size custom wine labels.

Long Neck (beer or cider) – We have templates designed specifically for long neck bottles. Many popular wine label sizes will work, also.
Remember, when it comes to choosing labels for wine bottles, measure your bottle first. Then work on your wine label design.
Here's an image with all of the common bottle sizes on it. Please free to bookmark this page so you can reference this diagram when you are designing the next labels for your wine bottles.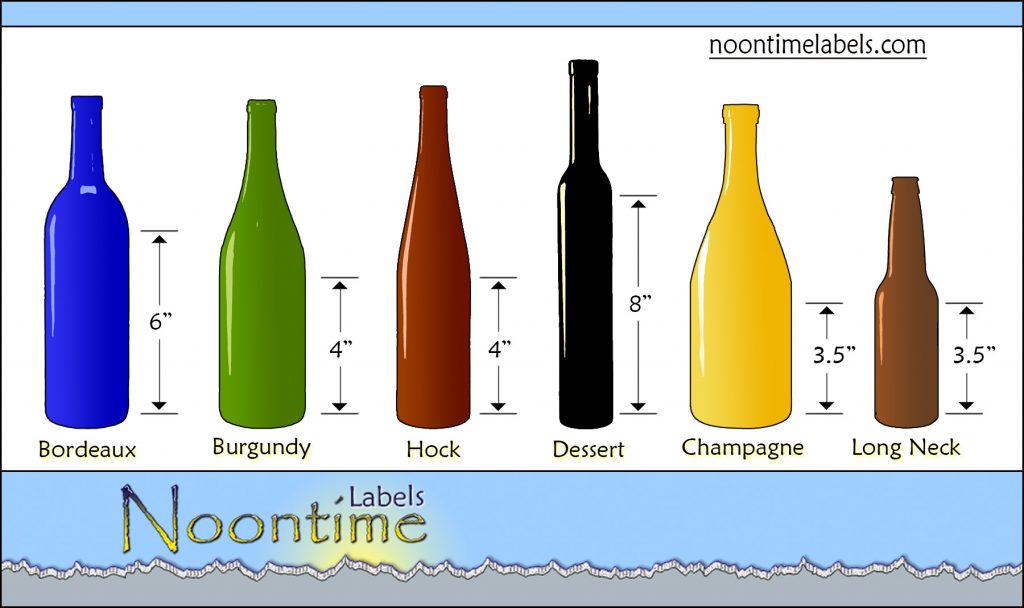 Need help choosing wine label sizes? We've worked with hundreds of winemakers to design and print personalized custom wine labels that they're proud to put on their bottles. Browse through our templates online, customize it using our simple online design tool, and place your order. Click here to go to our Label Gallery now. Or contact us to discuss a completely custom design for your wine.