Halloween is next week, can you believe it? It's time to get ready for the ghosts and goblins and plan your costume. As you get ready to dress up on Halloween, don't forget to dress up your wines with custom labels also!
Halloween custom wine labels on your bottles will be the hit of any Halloween bash. And your favorite adult "trick-or-treaters" will love getting bottles of your homemade wine as gifts.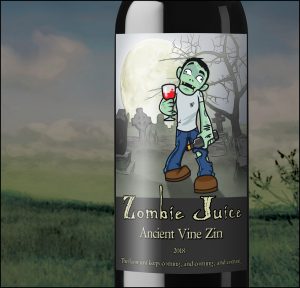 Hints for Spooktacular Halloween Custom Wine Labels
If you want to print your own wine labels, use a personalized photo label with a picture of you in costume to decorate your homemade wines for your Halloween party. This will add a personal, seasonal touch to your bottles. If you're giving homemade wine as gifts, the photo labels will be a cherished keepsake.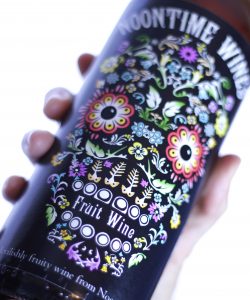 Or if you prefer, you can use a scary picture on the label, or artwork from your favorite scary movie. This is another fun way to get into the spirit of the season (pun intended!) and personalize your labels with something fun.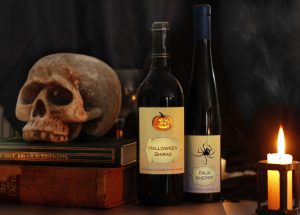 If you're not the Do-It-Yourself type, we can do the work for you! There's still time to order custom Halloween wine labels for your bottles of homemade wine and brew.
How to Order Halloween Custom Wine Labels
It's simple to order your labels: Choose one of our pre-designed label templates that are ready to customize. Edit the text, and follow the prompts to place your order.
These festive labels are a unique and seasonal way to wrap bottles of homemade wine to give as gifts. Or use them as table centerpieces and decorations at your Halloween party.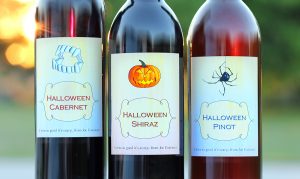 We've added several new Halloween custom wine labels to our website, and we still have some of your favorites.
You can find more custom Halloween wine labels to choose from at our label gallery. Select the Holidays and Celebrations label category to see them all on one page, or browse through the gallery for all of our design templates.
To make sure you receive your labels by Halloween, simply place your order by Wednesday, October 24, 2018. We'll print your personalized wine labels and ship them to you right away, so you'll have them by October 31.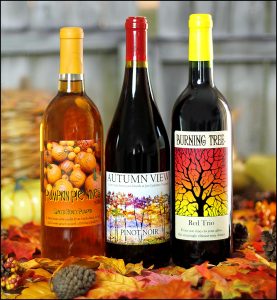 Also, be sure to check out our other holiday wine label designs. Remember, the other winter holidays are right around the corner. Beat the rush by ordering your Thanksgiving, Chanukah, Christmas, and New Year's Eve wine labels now.
Happy Halloween from Noontime Labels!