If you wait long enough, what was old will become new again. It was true for miniskirts, platform shoes, and skinny jeans. It's also true for wine labels.
We've noticed a trend in retro-looking wine labels lately on the wines we buy in the store. What's fun is that they fit right in with today's bright, colorful, creative labels! To honor this design trend, we've created several retro custom bottle labels and recently added them to our website.
One of our favorites is the Dapper label. This is a larger version of our popular Flapper label, and recalls the days of Prohibition, speakeasies, and young ladies dancing the Charleston.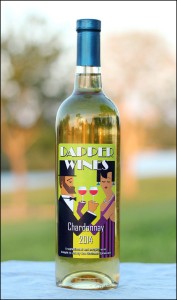 Continue reading →